Department of Applied

Nutrition
In the Applied Nutrition specialization, students will take a holistic look at nutrition. They will explore the nutrients in food and learn about the behaviors and social factors behind the dietary choices we make. They will learn and create healthy meals, study how food can help prevent chronic diseases and have the chance to assist people across the lifespan who want to improve their overall health.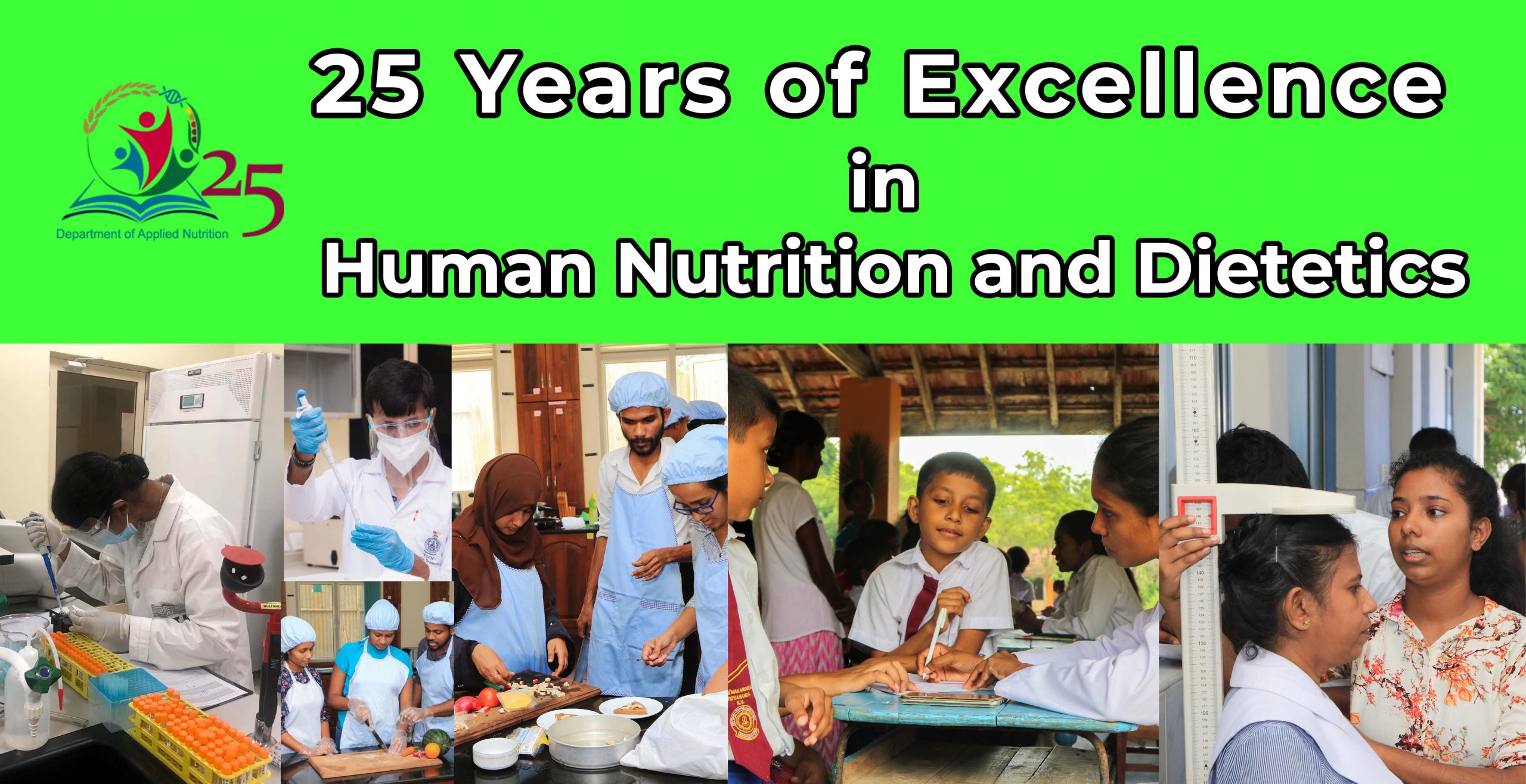 Our Vision 
Our vision is to achieve excellence in higher education, research & technology, training and developing human resources to meet national & global needs
Our Mission 
The mission of the Department of Applied Nutrition is to improve nutrition and health status of the population in Sri Lanka through;
Learning
Research
Service and
Practice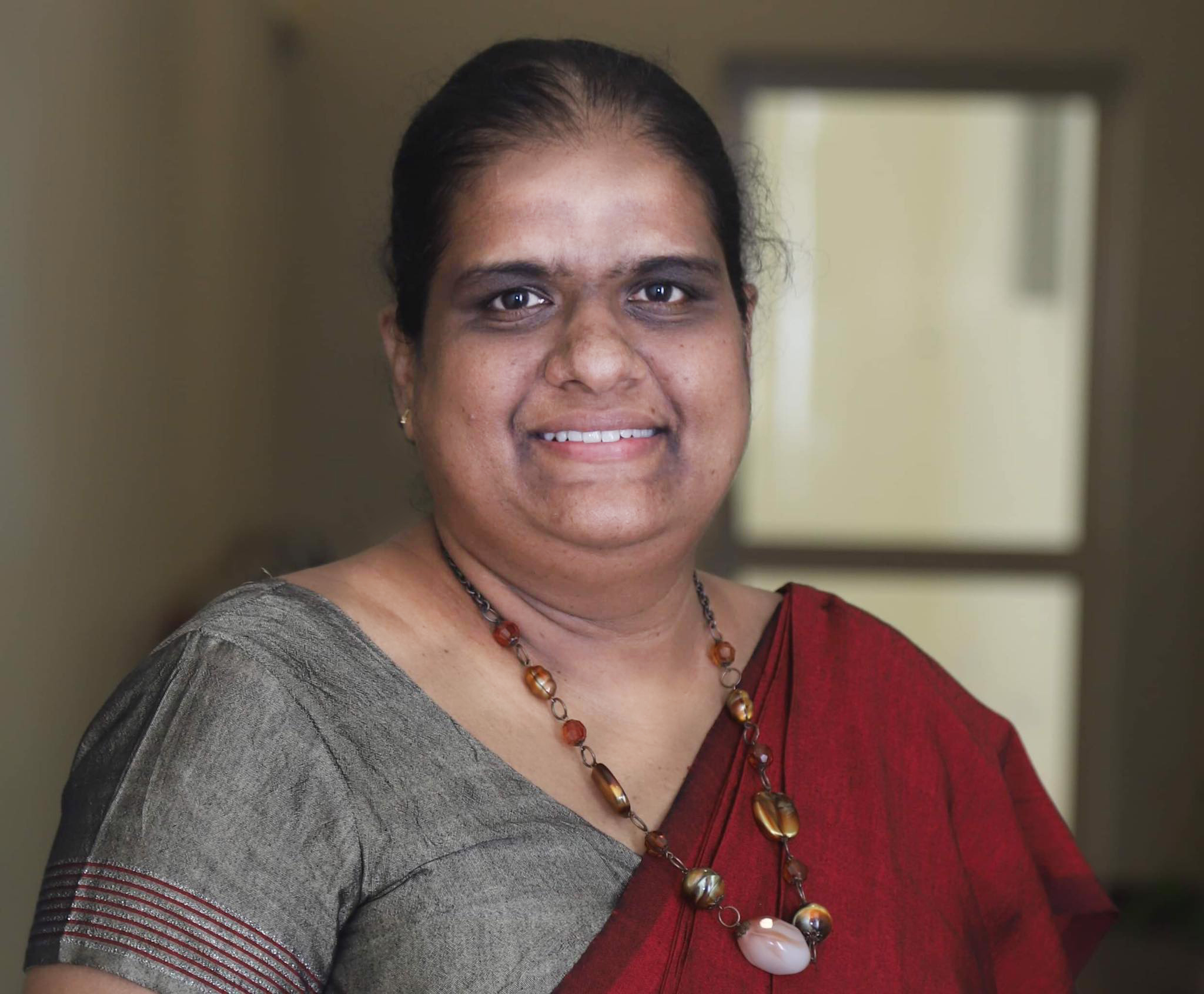 Dr. (Mrs) Kumari M. Rathnayake 
Department of Applied Nutrition
Faculty of Livestock Fisheries and Nutrition
Wayamba University of Sri Lanka
Makandura, Gonawila
The Department of Applied Nutrition is the first and the only academic department in Sri Lankan state university system in Human Nutrition. It is one of the pioneering contributors for the B.Sc. in Food Science and Nutrition degree offered by the faculty.  The graduates with Applied Nutrition specialization are qualified to be nutritionists and employed by government and private sector in food industry, health care, education, research and community development. Complemented with further study and training, specialization in applied nutrition is the shortest pathway to become a registered dietitian in Sri Lanka. The Department holds the pride of producing qualified dietitians who successfully practice in both local and foreign clinical settings.
The unique mission of the Department further extends to the improvement of nutrition and health status of the population in Sri Lanka not only via excellence in nutrition teaching and research, but also by training, community work and outreach activities. Moreover, the Department of Applied Nutrition provides technical guidance and consultations for the food and neutraceutical industry and local and international public and private sector organizations as a responsible partner in human nutrition of the local, regional and international communities.
"BSc in Food Science and Nutrition with Applied Nutrition Specialization was the foundation for my career as a registered dietitian and an academic. While the Dietetic internship led me to the shortest path of becoming a dietitian, Research project in Applied Nutrition was my inspiration for nutrition research at PhD level. The unique curriculum of Applied Nutrition not only taught me the ABCs in nutrition but also made me passionate to learn, teach and explore the power of nutrition in changing human lives".
"Multidisciplinary learning and professional exposure I gained through this program put a solid foundation for my career. Today I work for an international development organization with a very high level of job satisfaction. Choosing Applied Nutrition specialization is one of my best decisions as it has made me 'special' in my sector who is technically capable not only in project management but also in nutrition".
"Progressive structure of the BSc. in Food Science and Nutrition degree together with a specialization in Applied Nutrition allowed me to implement basic elements of nutrition research and also led to my increased confidence as a researcher. In particular, the 6-months research project at the end of the degree program was not only an excellent opportunity to advance knowledge and skills in carrying out research at an academic level, but also provided useful and open perspectives on various research areas of nutrition research. Overall, it paved the way for me to study towards a PhD on an exciting research area of the microbiome and get the opportunity to be part of leading research projects and publications. Beyond that, having received the training and opportunities to be involved in extracurricular activities and exposure to the nutrition field at an industrial perspective provided me with excellent career prospects and enhanced my confidence to succeed in my current role as a scientist".
"BSc in Food Science and Nutrition degree provided me with a solid knowledge on nutritional science and the expertise to achieve academic excellence in my postgraduate studies in Clinical Dietetics in Australia. By specializing in Applied Nutrition, not only I developed the knowledge in nutrition in a social, pathophysiological, and biochemical health context, but also established my interpersonal, communication, and team liaison skills through participating extra-curricular activities organized by the department. Today I have grown accustomed to working alongside, as a clinical Dietitian in an increasingly busy hospital with a multidisciplinary team of medical and allied health professionals, where these skills are the cornerstone of providing high-quality care to the patients". 
"Tertiary education is a deciding factor in person's career path, I'm so glad I have started mine with the department of Applied Nutrition at Wayamba University of Sri Lanka. BSc specialization in nutrition was my foundation. Since the start of the programme, I have gained knowledge, erudite evidence-based practice and got the opportunity to put my knowledge in practice. Knowledge, experience and skills which I gained as an undergraduate assisted me and academically prepared me for a Master in Dietetics. I'm so grateful to the department of Applied Nutrition for guiding me to be an internationally qualified dietitian. Now I'm a clinical dietitian working with a multidisciplinary team at the primary healthcare setting in Melbourne, Australia. Working in multicultural, first world country is a challenge, but I'm so proud to say that I'm successfully accomplishing that challenge. I always believed the confidence I built up through my undergraduate training at Wayamba University of Sri Lanka and I knew "I have a solid base to start with."
"Department of Applied Nutrition was the place where I began my nutrition dietetic journey with a clear career goal. It helped me to achieve knowledge, skills and experience required to successfully progress in different career roles as a project officer and a clinical dietitian. Dietetic Internship gave me a valuable opportunity to expose into real working environment and inspiration to become a dietitian. Today I work as a private practicing dietitian in Australia with a great satisfaction of the career path I chose".
"It is a pleasure to write about B.Sc Food Science and Nutrition degree programme and the Applied Nutrition specialization as they paved the way for me to become a professionally qualified Dietitian and a Nutritionist in numerous ways. For instance, multiple assignment tasks pertaining to course work, research, practical tasks and hospital internships which I was involved in during the two-year specialization period at the Department was very useful to build my academic, professional and personal skills leading to a winning carrier as a Dietitian. Also, participation in extracurricular activities in combination with "NutSoc" provided me a greater chance to improve my leadership, hard work and communication skills which are essential components of a successful dietetic career.
Finally, the people who I met during this undergraduate programme, both Lecturers and Senior Dietitians made it such a valuable experience and pushed me to succeed".
"The reason I selected the Food Science and Nutrition degree program at the Wayamba University of Sri Lanka after my A/L examination is to become a Dietitian and be a part of health care professionals in the country. I represent the students of the 2nd batch of the Food Science and Nutrition Degree program, and I opted into specializing in Applied Nutrition. Though I gained knowledge and skills from the Department of Applied Nutrition 13 years back, I would say still I am beyond grateful for the nutrition knowledge, skills, and mastery I have gained from the Department of Applied Nutrition, which shaped me to become a successful Dietitian, Also as a part of the degree program,  I was fortunate to obtain the Dietetic Internship at Asiri Surgical Hospital. Certainly, that training has given me the confidence to practice in the health care sector and made the path to become a Registered Dietitian in Sri Lanka. I would proudly say I'm among the first ten dietitians registered in Sri Lanka Medical Council. Presently I work as the In-charge Dietitian at Asiri Group of Hospital, which is one of the leading private hospital chains in Sri Lanka, Alongside this, for around 10 years I have been providing my service as a dietetic preceptor for Dietetic Intern students."
My decision to pursue a "BSc in Food Science and Nutrition with Applied Nutrition Specialization" was a watershed moment in my career. Further, the Department of Applied Nutrition guided me in becoming a Registered Dietitian and a Registered Nutritionist, which was a key step towards achieving my professional goals. By specializing in Applied Nutrition, I was able to not only expand my knowledge of human nutrition, pathophysiological, and biochemical health context, but it also inspired me to learn, teach, and enhance personal skills, which led to a successful career as a Lecturer at Faculty of Medicine, Sabaragamuwa University of Sri Lanka.
"I started my undergraduate studies with the scope of becoming an innovative professional in the field of Nutrition. I felt it was great a privilege when I got selected to specialize in the Applied Nutrition Department. Modules and structure of this specialization, especially the "dietetic internship" aided me to gain vital skills and knowledge to become a primary care dietitian in Sri Lanka and then to register and practice as a dietitian in the United Kingdom. I am quite sure that the basis to perform this autonomous and rewarding profession was laid at the Department of Applied Nutrition. Also, this internationally recognized degree has given me a big opportunity to secure a place to read for a master's degree in Human Nutrition at a world-class university in the United Kingdom.
In addition to the academic achievements, I was able to gain incredible experience in adapting to a multicultural environment and I learned about respecting individual beliefs and values which is a necessary feature of a dietetic professional.
Choosing to specialize in Applied Nutrition was the best choice that I have ever made. Therefore, I am eternally grateful to the Department of Applied Nutrition and the Wayamba University of Sri Lanka".
"BSc. Food Science and Nutrition from the Department of Applied Nutrition is a pioneer nutrition degree in Sri Lanka. As a former student of this degree, I am happy to share my personal journey from Makandura to Canberra. I started my nutrition career, as a budding undergraduate at the same department, which offered me an excellent teaching space to acquire the core competencies in the nutrition paradigm. Throughout this degree, I had numerous opportunities to learn and gain experience from the leading nutrition educators in Sri Lanka and, to apply them into real-life scenarios. Apart from my learning capabilities, I developed a strong passion towards community nutrition during my final-year research period, which eventually progressed into my current PhD degree in Australia."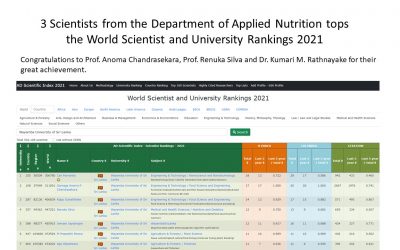 Congratulations to Prof. Anoma Chandrasekara, Prof. Renuka Silva and Dr. Kumari M. Rathnayake for...
read more
'Welcome to NuRes: The Newest Nutrition Analytical Laboratory of DAN'
Our Degree Programme in a Nutshell: FSN Brochure
Snack Smart, Smart Snacking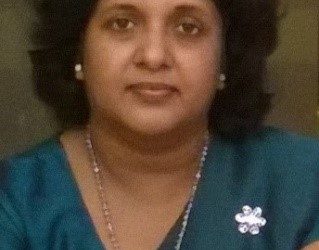 Prof. Anoma Chandrasekara from the Department of Applied Nutrition, Wayamba University of Sri Lanka has been ranked among the top 2% of scientists in the world for the third consecutive year in 2021. In single year impact, she is ranked 4th in Sri Lanka in 2021 in the...
read more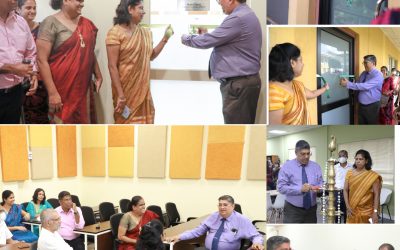 The Nutri-hub, a sophisticated student teaching and learning center along with Nutri-cloud and Nutrition Wellness Center were ceremonially opened by Senior Prof Udith K Jayasinghe, the Vice -Chancellor of WUSL on 12th Sep 2022 at the DAN new building complex. 
read more
Reach us at
Department of Applied Nutrition
Faculty of Livestock Fisheries and Nutrition
Wayamba University of Sri Lanka
Makandura, Gonawila
Telephone: +(94) 312 298 120
Fax: +(94) 312 299 870
E-mail:  nutrition@wyb.ac.lk