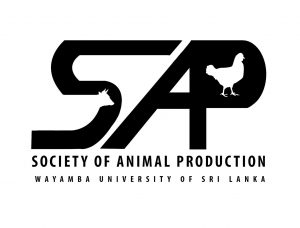 Society of Animal Production was established in the year 2003 to provide the opportunity for students specialized under the Department of Livestock and Avian Science to link with the livestock farmers around the university and the community to transfer the knowledge, serve the community and build the passion for the livestock industry.
The Society of Animal production is one of the registered societies under the National Science Foundation. Society of animal production is the publisher of Wayamba Journal of Animal Science (WJAS).
As an outreach activity, the society takes part in Linkcom which is a credited course unit of the Faculty of Livestock Fisheries Nutrition to facilitate the undergraduates who specialize under the Department of livestock and Avian Sciences to work with the livestock and poultry farmers in North Western Province.  
Objectives
Developing the creativity of the members of the society and faculty.

Carrying out collaborative work with the community, other Universities and the organizations especially in the Livestock sector.

Helping the other faculties of the Wayamba University whenever necessary.
Activities conducted in 2019
Prepared name boards for the farm premises.

Established pasture and forage crops in the farm premises.

Established a rabbitry by introducing three varies of rabbit breeds

Showcased a film festival

Printed a T-shirt
Activities conducted in 2018
Conducted awareness programs to the farmers and target groups in the society including pet owners and people who are engaged in animal husbandry sector.

Participated in the "Poultry Forum 2018" which was held at the Uva Wellassa University on 28

th

September 2018 that included workshops and exhibition. The society exhibited the latest poultry related research and product developed by the

Department of Livestock & Avian Science.

Organized the department get together " SAP NIGHT " with the purpose of strengthening the bond between passed out graduates and undergraduate of the department. The SAP NIGHT 2018 was held on 20

th

October 2018 with glamour and delight in the pleasant settings farm premises of the Department. Staff members, undergraduate students specializing in livestock & avian science and past students participated this event.
Past activities
Construction of the arboretum of the livestock farm unit of the Department of Livestock and Avian Sciences

Select a medium scale livestock farm nearby university area and consult the farm activities to uplift the status of that farm

Conduct a series of awareness programs on the current status of livestock production of the country and about the Faculty of Livestock Fisheries and Nutrition for the school students of the North Western province

Painting university name on the rooftop of the faculty of Livestock, Fisheries and Nutrition