Department of 

Food Science and Technology
Department of Food Science and Technology (DFST) works with the mission of contributing to the society through the pursuit of education in Food Science and Technology in learning, disseminating knowledge and meeting international standards in research and teaching at the highest level of excellence.
Having realized the qualities and skills required from a food technologist by the food industry today, DFST has designed its syllabus to provide students with a sound theoretical knowledge in food science & technology as well as hands-on experience through practical training in food processing, product development and quality control. Department has already produced 66 graduates in its continuous process of producing skilled graduates to cater the demand in the food industry. Practical component of the degree program includes routine laboratory exercises conducted in the departmental laboratories, and field visits to reputed food processing plants.
DFST is the major contributor to the four year degree, during the first two years, students are taught some basic courses in food science & technology and several courses in related disciplines such as human nutrition, animal science and aquaculture & fisheries and general courses ie. Mathematics & statistics, Information technology, English offered by the other departments of the faculty. During the third year, students follow specialization courses on highly subject specific topics. In the first semester of the final year students are guided to carry out mini research project and in the second semester, the students are assigned to a food processing factory to undergo intensive in-plant training. Or else student can carry out research projects where they can integrate knowledge in the identification, description, analysis and solution of problem with in their specialization.
Vision of the Department:
"Inspiring minds to meet global food and health challenges"
Mission of the Department:
"Contributing to the society through the pursuit of education in Food Science and Technology in learning, research, disseminating knowledge and meeting international standards at the highest level of excellence to meet global food challenges"
"Department of Food Science & Technology, covers an extremely broad range of fields specializing in food, making this department very unique among other degree programmes. The department takes pride in its teaching staff consisting of specialists in all kinds of food-related fields, from theory to application, including chemistry of food, functionality, food production and processing, microbiology and food safety. The Department also actively conducts joint research and development with the industry towards commercialization. The well-equipped facilities provide a perfect learning environment. The students specializing in food science & technology have the opportunity to undertake both research and internships in the food sector, moulding them into a career in the local and international food sectors as scientists and technologists capable of ensuring the production and marketing of safe and quality foods."
The choice of selecting Food Science and Technology specialization was the best decision made in my university life. The curriculum of the department plays special emphasis on establishment of a solid groundwork across diverse fields in Food Science. Meanwhile, our department always expose us to various practical opportunities such as individual projects, group projects, in-plant training and research projects to enhance the creative thinking, self-learning, problem solving ability and team work of students. Academic staff in the Department of Food Science and Technology are incredibly supportive and passionate about student success, students can always find a source of support and encouragement. It laid the foundation to start my career as a graduate student at North Dakota State University (NDSU) in United States.
My name is Tharuka and I'm currently a second year joint-doctoral candidate between the Department of Plant Sciences, University of Adelaide, Australia and the Department of Food Sciences, University of Nottingham, UK.The knowledge, skills, and experiences that I acquired and the attitudes, perseverance and confidence that I was able to develop during my BSc. In Food Science & Nutrition (Specialized in Food Science and Technology) at WUSL has given me the capacity to secure a position in academia within a short period from graduation and helped me to have a smooth transition from an undergrad into an academic.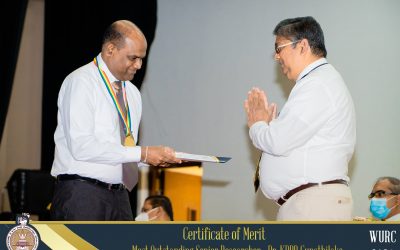 Dr KDPP Gunathilake of Department of Food Science and Technology, Wayamba University of Sri Lanka, was awarded the Certificate of Merit for the 'Most Outstanding Researcher - 2019' at Wayamba University Research Congress (WURC) 2020 Furthermore, Dr KDPP Gunathilake...
read more